With 39 shops, we're all over Hertfordshire like icing sugar on a Victoria sponge...
Or, we can come to you...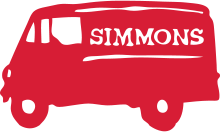 Snack Vans
Want to treat your staff to a Simmons snack van, arriving every day with the freshest sandwiches and savoury snacks? Let us know when and where, and we'll be there.
Snack Vans

Wholesale
We can keep your business supplied with any of our bakery products. You'll be in excellent company: we supply Wimbledon with scones, and can include Kensington Palace Gardens, Whipsnade Zoo and John Lewis among our wholesale customers.
Wholesale